Listen to your wife. "Go play with Allan's Trains!"
About the Kudzu & Tennessee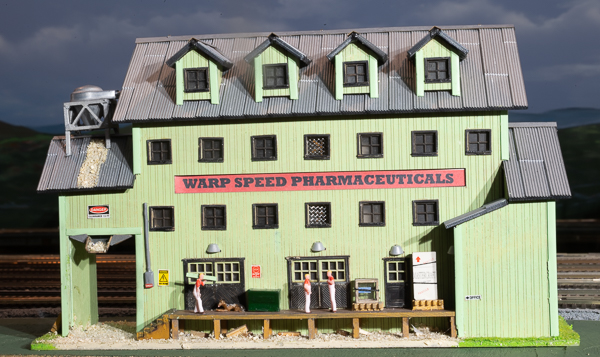 The layout that COVID-19 built.
The pandemic has given me a lot of time to work on my layout. I am much further along at this time than I thought I would have been. I have repurposed one of my businesses as a vaccine factory.
July 19, 2023
I have my writing done for my column and book for now, so I have siezed the free time and been "working on the railroad." I don't know if you can call it fun, but the work has been necessary. I have finally unpacked every box that contains locomotives and rolling stock from the move from Texas. Whew! Definitely not fun, but it's done. I have positioned all the industries and staged cars by all of them. Since the new layout is smaller, I have a lot of excess cars that will be up for sale at upcoming train shows. After I finish laying out the town, I will resume scenery work and will start posting pictures again. Stay tuned!
Scroll to the bottom for the latest pictures of kudzu and bridges!
August 14th, 2022 Click here to see the latest pictures!
I have retired to Maryville, TN near Knoxville. The new layout is being built in the 49' x 16'6" room over the garage. Like my last model railroad, I will be trying new thngs that you probably have never seen done before.
The layout is a folded loop capable of continuous running when viewed by guests. For operating sessions, there is a wye in the middle of the loop that will allow trains to be served by a yard that will effectively will be two terminating yards.
So that I don't have to lay on my back under the layout, all the wiring is being done from the front via hinge-down smoked acrylic facia. This will also allow me to store things under the layout without having to move them.
Further, to avoid having to get under they layout, there will only be switch machines for turnouts that are hard to reach. It gets better, there will be no ground throws!
Faster construction doesn't mean cheaper. For example, using IDC's (Insulation Displacement Connectors, also called "suitcase connectors") will be faster at connecting feeders to buses than soldering them, but cost more than using solder. I'm also using terminal strips to connect feeders to buses. They cost money, too.
I started using Peco Electrofrog turnouts and switched to Peco Unifrogs when they became available; both with the sprung throwbars. I'll just change the turnout position by flicking the the points with my finger. With few switch machines and no ground throws, I need a way to power route frogs. I will be using Frog Juicers. They cost a little less than Tortoise, but don't require access under the layout. Since I had Tortoises that I sold, once again my construction technique will be faster, but not cheaper.
Ah, but in one way, it will be cheaper and so much faster. That is, there will be no control panels. Control panels traditionally consume about half the time it takes to wire a layout. When I've been in clubs, that's all I did was wire. As most model railroaders aren't good at wiring, I often worked alone.
For speedy construction, the layout will be one level instead of the four levels of the old railroad. Another reason is that the room has slanted ceilings. Trying to go multilevel would drastically narrow the railroad. I don't have a set timeline for finishing, but surely it will be faster than the 14 years of the previous layout.
With all the facia panels being hinged-down, the benchwork will be octogon shaped for the turn around loops. The smoked acrylic hinged-down facia will allow viewing of status lights without having to drill the facia for all of them as well as label them - another speed booster.
All the town names used on this railroad are real places in Tennessee. They are: Big Boy Jct, Bitter End, Boom, Boring, Bucksnort, Difficult, Falling Water, Frog Jump, Hornsbeak, Lick Skillet, Moodyville, Regret, Sawdust, Screamer, Suck Creek, Sweet Lips, Three Way, Tiger Tail, Tater Peeler, Top of the World, and Yum Yum.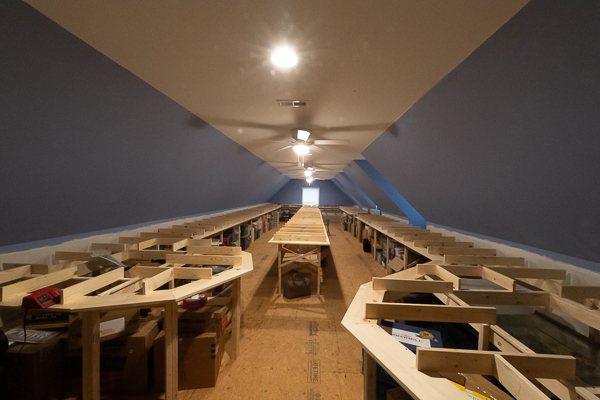 Yes, this will be a long, narrow layout. The middle of the "E", shown above, will contain the yard. The top and bottom of the "E" will run down the two walls. (The west side is shown started in the far left.)
The benchwork is shaped like the letter "E". The yard will be located on the middle leg of the "E". The turn around loop are at the ends of the "E" and shown in the foreground on both sides.
Another view facing north showing the end of the penisula.
The north wall were the west and east wings are joined to the penisula. The penisula will contain a yard that will act as both ends of the railroad.
Februrary 10th, 2020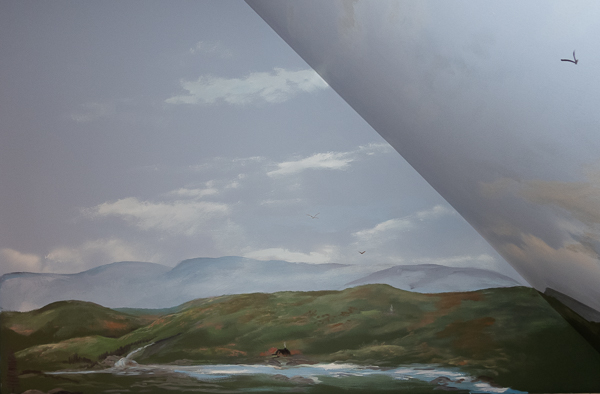 I tried using stencils to make my mountains, but I wasn't happy with my handiwork. So, I hired a local mural artist, Gale Hinton, to work her magic. www.galehinton.com Above is just one view where she gave me rolling mountains, a waterfall, a cabin, birds, and even a still. Can you spot the still? This scene is on one of the vertical walls I have. To the right, is the slanted ceiling.
The benchwork is complete with plywood tops installed. I'll give you a hint, Go to Harbor Freight and spend the $48 for a rotating laser level. Yes, you may never need it again, but after trying to install 302 risers without it, I broke down and spent the money. In one day, we adjusted the 70 risers we had installed so far and completed the remaining 232 risers.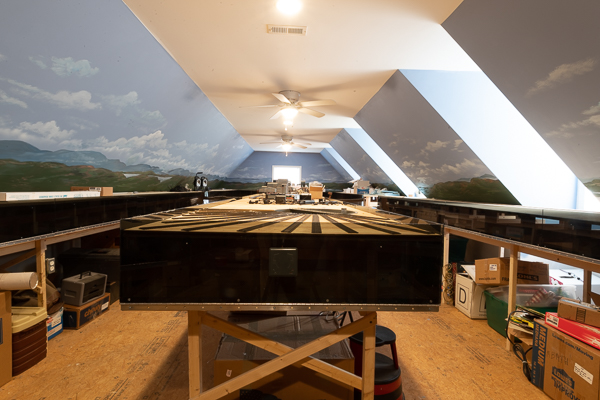 March 12th, 2020
Close-up of hinged-down fascia and trackwork laid so far. In the distance are the buildings from the old layout that are waiting to see if I will have a place for them on this railroad.
Now that the backdrop and fascia are complete, the planning of towns and laying track can get underway.
Aug 17th, 2020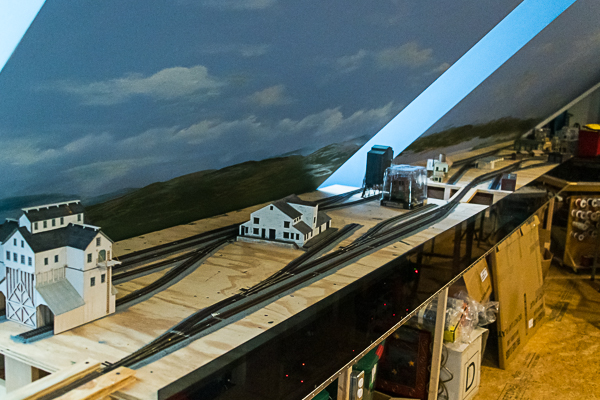 Here is a portion of the east side after the track for the industries has been laid and wired. You can also see the status lights of the various DCC electronics that are shining through the smoked acrylic. Here you can also see another view of the mural backdrop. Landscaping yet to come!.
December 24th, 2020
Despite the challenges that COVID-19 is throwing at the KAT, good progress is still being made.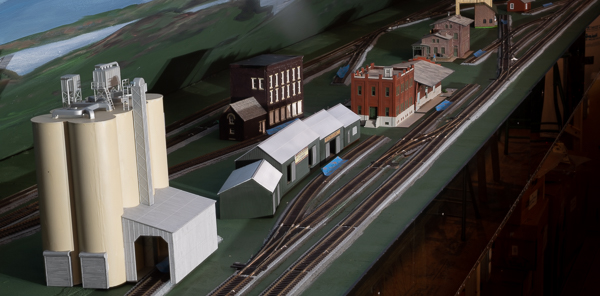 I also put down a base coat of green paint so that the plywood doesn't show through the ground cover when I put that down. In the meantime, it also helps make the layout more presentable than bare plywood.
January 28th, 2021:
I hit a milestone of sorts this past week. I learned to spell peninsula: p-e-n-i-n-s-u-l-a! All the track on the peninsula is laid.
There isn't much good that can be said about the COVID-19 pandemic, but I have been able to get a lot of work done on the layout.
I'll put in signal or two when I'm done with the mainline wiring, but most of the signalling will be put off until later so that I don't risk damaging the signals while doing other work.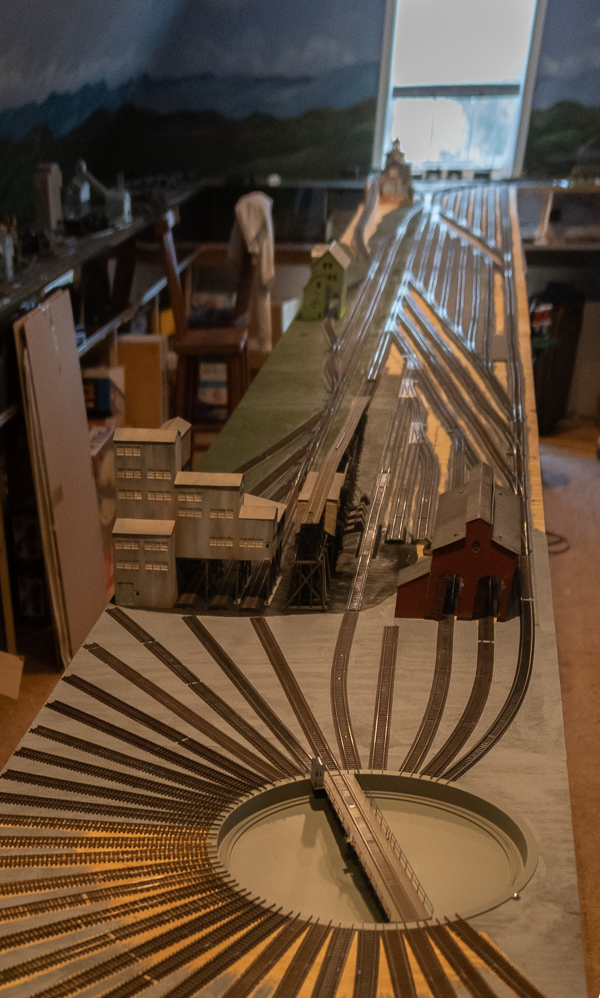 Rats! Ran out of grey paint! In any event, all the track on this layout is now down. I surprised myself. I had salvaged enough track from my old layout that I was able to complete all the trackwork without buying any.
I did switch to Peco turnouts for this layout. Towards the end, Peco came out with their Unifrog turnout. No point hinges, tiny powerable frog, and connections between the closure rails and stock rails. A primo turnout!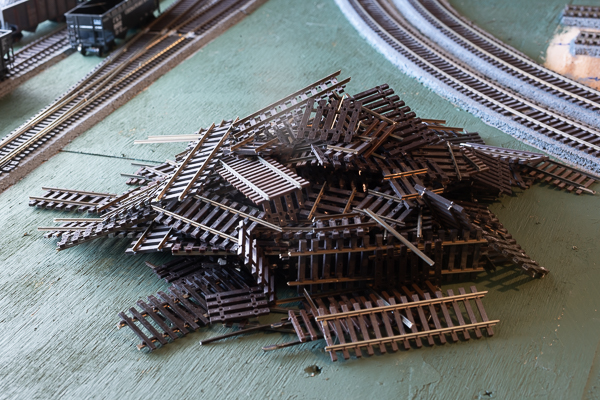 I collected all those short, unloved pieces of track just to see how many there would be. It turns out I have 124 pieces that were too long to toss, but too short to use. Some of them will be used in a rail salvage yard. The rest will be unceremoniously tossed.
March 19th
I'm done wiring my track! I had it as my goal that I would finish the track wiring by the time I was vaccinated and I did it.
I have added the ability control my turntable with DCC and also automatically only power up the track the turntable is pointed to.
May 16th
Now that we have our vaccine and clubs are active again, I'm not working on the layout just about every day like I was. Still, progress is steady.
I'm using foam board and lightweight spackle for my scenery base. Maybe not the cheapest way to go, but definitely light, durable, and not too messy.
I bulit a kit of the station of my home town. How many people get to have the station of their home town on their layout? In building this kit, I have come to the realization that I should buy two of every kit I want to build. One to screw up and figure out what I should have done and figure out how to build the kit correctly. The second kit I would build with everything I learned and get it right and looking good.

I'm going to try a couple of new things. One, I have a large gorge in front of a window. In case I ever need to access the window, I want the gorge to be removable. I'm using magnets to hold the gorge sides in place.
Two, to make my railroad easier to photograph, I'm not going to anchor all the foam mountain pieces in place. It may be good to remove some to make some pictures possible. With the mountain sections on the camera side of the tracks removed, I'll put down some ground cover under the mountain sections that I remove. That should make many more pictures possible.
November 5th
I glued the last piece on my train station and shed. Yay! I also finished shaping my foam with a hotwire knife and glued the pieces together with hot glue.
In case you are wondering, most everything will be lift out. Or maybe I should say, work on it on the bench and then put it in place. I also plan sections to be removable when I want to photograph something and my scenery is otherwise is the way of a good shot.
I've been painting the scenery base coat. I'm finding that since the terrain is intentionally not smooth, painting every crevasse is taking a good bit of work and time. After the paint dries, I find a 100 places I've missed. Some pieces I have had to touch up four times.
01/14/22
I have completed painting the rocks. I have started putting in the kudzu. I've never done kudzu before so I'm perfecting the craft in not-so-important areas before I get to the corner below and other places I will likely photograph. Applying adhesive around the rocks, without getting it all over the rocks, will likely be tedious.
Check back in a couple of months and check up on my progress.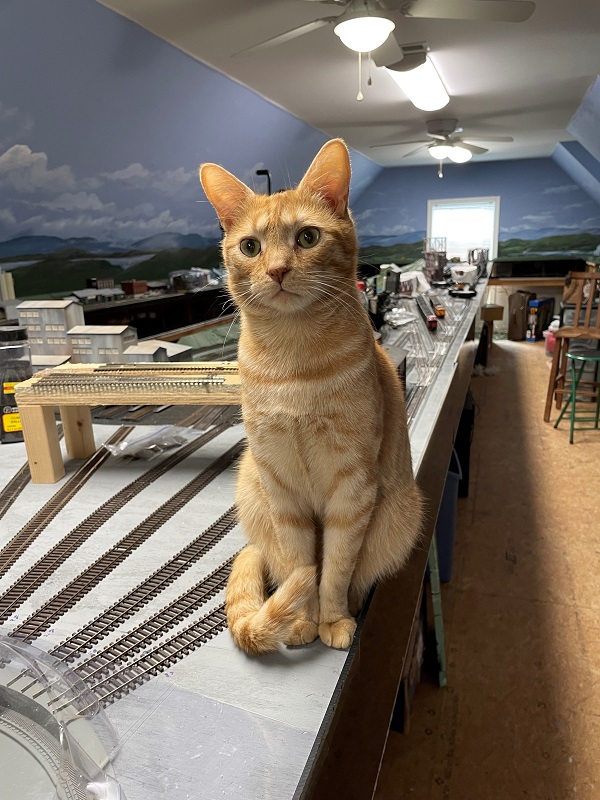 Track foreman, Jersey, likes to supervise construction on the Kudzu & Tenn. He is always there to lend a helping paw.
Here is my first shot at doing kudzu and rock outcroppings. I don't know how this happened, but it actually turned out pretty good for someone like myself who has ZERO artistic talent. Kudzu without rocks goes fast. The rocks slowed things down considerably. This is going to take a while!
August 14th, 2022
I haven't added the surface water effects yet nor have I have a placed the bridges. But I was surprised that the creek with the kudzu banks looks pretty good.
January 22, 2023: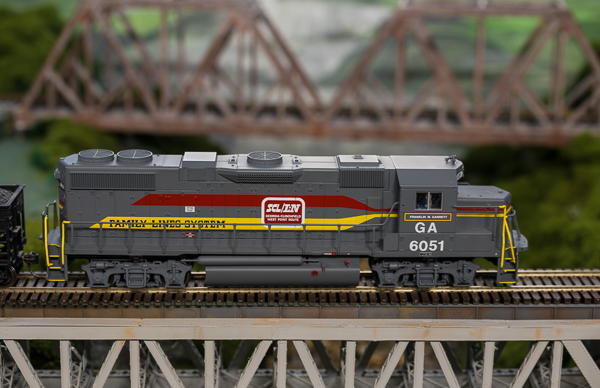 All the mainline bridges are in! With the temporary wood bridges removed and the model bridges in place supporting the track, trains can now be run and the rivers now are looking like something. This photo features the Clinchfield's bridge at Pool Point in the foreground. In the background, is the model of the Clinchfield's unique bridge at Starnes. Both of these bridges were salvaged from my Texas layout.
Stay tuned for more. In the meantime, check out the original High & Xiety that I built in Texas.
"A little help from my friends." Finally, I'd like to thank the following modelers who have helped build the Kudzu and Tennessee. Some times I just needed an extra hand. Other times, they were just better than I could have done, were much quicker than I am, or just simply helped out while I was focused on wiring.
Feroz Appaiwalla - scratchbuilding wooden structures
Jim Arrasate - model painting
Don Clark - carpentry
Harley Nichols - scratchbuilding
Jim Vineyard - scratchbuilding wooden structures
Jack Wallschlaeger - craftsman kit construction and scratchbuilding


Be sure to take this little picture tour of Clinchfield Country!