DCC in the Garden
Putting DCC in the garden does make things nice. No need to dig up your master piece to run a new wire for rail switch, block, or even building lighting control. You can even have signaling without a daunting amount of buried wire. And let us not forget about a world of sounds that only DCC can control.
This web site assumes you have decided to put DCC, in one form or another, into the garden. In its simplest form you need only run the track bus and feeders. No more complicated than a simple traditional setup, yet sound and complex locomotive lighting can be controlled.
For G scale locomotives with DCC decoders, see the main table of contents.
SUGGESTION #13-12: How to MU The LGB Unitah and Sumpter Valley Locomotives Without Changing Gears.
See Electronic Gearing Below. Just program the faster locomotive to run slower!
SUGGESTION #13-1: Soldering Bonds (Jumpers) to Code 332 Brass Using a Resistance Soldering Station
If you are not using stainless steel joiners, then you will need to install jumpers whether you use code 332 brass or code 250 nickel-silver. The only way to avoid jumpers is if you intend to feed every piece of track.
Read below on busses and feeders. Note how quickly wire appears to age. If I were building my garden railroad again, I would use #12 for feeders. I would also use #12 for mechanical strength. I had a mudslide. Using a typical garden shovel to clear the mud, I managed to break two of my bonds (jumpers.)
A resistance soldering system will use less solder— you are less likely to have blobs. The best part is avoiding the melting of ties.
Please read the section on soldering tips; particularly the part about a resistance soldering station. You will need every bit of 250W to do the job. A lower heat will require the long application of heat and melt ties. Use 18 AWG solid or stranded wire. You don't need anything larger in diameter (see below) and larger diameter wire required even more heat when I tried a fatter piece. I prefer solid for outdoor use as it will not corrode as quickly. If you use stranded, fully cover the piece with solder. You can use your regular soldering gun to do this. Before soldering, form the piece of wire like this: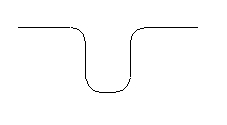 You MUST lightly sand the rail before attempting to solder to it. Use a piece of sand paper or a foam-rubber block clad with fine sanding grit available from your favorite home improvement store.
I used regular electronic solder with rosin core flux. DO NOT use acid flux on anything electrical! I tried using killed acid liquid flux, but it didn't work any better than the rosin core solder.
Why don't you need a larger piece of wire? The all important thing to us is the voltage drop. When you are done, you will only have about 0.25" (6mm) of wire between your rails. Even at 10 amps, this will not be enough to require bigger wire. Feel free to try 16AWG solid wire or larger if you want to, but be careful not to melt your ties.
Note: Over time, I have adopted a much larger and more complex shaped bond. Do you need to worry about them being unsightly? In no time at all they corrode to a dark color. You definitely don't even notice they are there and will find them somewhat difficult to spot without conscientiously looking for them. So much so, that's why they are easy to hit and break!
INFORMATION #13-2: Measuring the Locked Rotor Stall Current of a Large Scale Locomotive
There are a few hazards involved in measuring the locked rotor stall current. Frequently, the motors of quality large scale locomotives are metal. These gears frequently have sharp edges. The motors have quite a bit of torque. So the first thing to be careful of is that you don't get your fingers sliced while trying to hold the motor shaft.
Another hazard is that you could burn up the expensive motor. I have your attention now, don't I? Stalled, these motors will draw many amps. Don't hold the motor shaft still for more than a second. Longer than that, you are taking your chances.
Lastly, stall current is often measured at 12V. But for large scale, it needs to be 16V to 18V. After all, the current the decoder will see will be due to these higher voltages. It's important to realize than many model train power packs drop output voltage when subjected to a high current load like when you have a stalled motor.
I don't have a power pack that can maintain 18V, or even 16V, and put out more than 3 amps. That is probably just as well, since I don't want to "let the smoke out" of an expensive motor. Fortunately, I can estimate the stall current at these higher voltages based on what I can measure at 12V. I will report the 12V reading for consistency as well as my estimates for the higher voltages. You should buy your large scale locomotive decoders based on these higher voltages.
How do you know if your power supply can supply enough power to measure the stall current? You need to have a volt meter hooked up to the power supply when you make the measurement. Suppose you want to measure the stall current at 16V. The volt meter needs to be able to read 16V WHILE YOU ARE HOLDING THE MOTOR SHAFT STATIONARY. If it drops, that isn't measuring the stall current at 16V. If you are using a train power pack, turn it up. If you can never get it to read 16V, then the power pack isn't powerful enough.
Be extremely careful when attempting to measure the stall current of an S, O, and especially G scale motor. For one thing, the high quality brass gears may be sharp enough to cut. For another, they are strong enough to break a motor or gear mount. I know this from experience!
For locomotives with 2 motors, I will indicate that 2 motors are involved and that you will need a decoder that is rated for this double high current. If my experience with the new Bachmann Shay is any indication, you will probably always need to buy a 6A or 8A decoder. In this case, if you can't buy a 8A peak rated decoder, don't lose any sleep over it. I may be premature in saying this, but I doubt any load this locomotive will see will ever get it close to stalling.
For more information on measuring the locked rotor stall current of a locomotive, see the section on Wiring Tips for Specific Locomotives.

SUGGESTION #13-4: How Far Apart to Place Feeders.
12' (4m) is a good rule. This is especially true if you are not using the stainless steel clamps, or are using 18 AWG wire or larger for jumpers. You have to be careful that during a heavy short, your jumpers don't get hot. You do want this to be a trouble-free railroad, right?
18' (6m) would be the limit if using 14 AWG jumpers or stainless steel clamps. At the longer distance, the voltage drop across the rail might be noticeable to some.
Longer distances you have to worry about the voltage drop and the quality of the joints. With a garden railroad, who wants to be digging up feeder buses to add more feeders? Or fix joints that have broken or corroded?
I use jumpers and a feeder for every 6' (2m) of track. I call this extra effort "insurance". It's not necessary. It's just what I choose to do. I use 14 AWG solid for feeders because I have a box of it.
SUGGESTION #13-5: What Size and Type Wire to Use For Feeder Buses.
I suggest you use at least 12 AWG wire. I use 10 AWG solid. This is a good idea if you have very long runs. In my case, I have pieces over a 100 feet (33m) long.
What type of wire is a good question. There are wires designed for direct burial but they are not suitable for garden railroad use.
Underground sprinkler wire: Solid wire, but much too small in diameter to carry the necessary currents.
Low voltage lighting wire: Normally, this stranded wire has its termination inside above ground lights. Stripping stranded wire and then trying to solder buried feeders to it will ultimately fail - probably even if you succeed in waterproofing the connection. Part of the problem is that soldering stranded wire makes it very rigid and the tiny flexible strands can break off. If you walk on your track, you are aggravating this problem. If you don't successfully waterproof the connection, you are certainly doomed to failure.
Buriable "Romex:" This wire, available in the United States, has a jacket that makes the wire buriable. Cutting into this jacket and burying it nullifies the jacket's benefit.
Until I find a wire that seems really good, I use heavy solid wire. The fatter the wire, the longer it will be before it corrodes through. I can't tell you how many years, but #10 solid should give you plenty of them. What I can tell you is if you saw how cruddy my wires look after just a few years in the ground, you would use #10 for everything! I still expect years of good service. What's appalling is how quickly nature makes them look so old after such a short time. It definitely drives you to want to be as sure as you can that they will be there a long time.
While all the feeder connections challenge garden wiring, properly installed trackwork helps you out. If you put several inches of stone under your track and your feeder connections are in the middle of the stone, your connections will not be immersed in constantly wet soil.
Another thing that you should think about is the wire's mechanical strength. In short, the thicker it is, the sooner you will know you hit it before you break it accidentally sometime down the road.
SUGGESTION #13-7: What Size Wire to Use For Feeders.
I suggest you use at least 16 AWG. If you run feeders to your track every 6', you can use 18 AWG. I use 14 AWG solid. If I were to do it again, I would use #12.
Another thing that you should think about is the wire's mechanical strength. In short, the thicker it is, the sooner you will know you hit it before you break it accidentally sometime down the road. If you should have a mud slide or something else that covers the track, you may not see it and may break it before you know it. I haven't broken a feeder, but I have broken a bond (jumper.)