THE PROTOTYPE FOR THE FINCHFIELD & WRENSYLVANIA
If you have never spent much time in the Smoky Mountains, you may be missing the significance of some of the things you see on the Finchfield & Wrensylvania.
Appliances
People in the southeast, particularly in the hills and mountain regions, hate getting rid of anything, especially if they contain sheetmetal. Old cars and appliances give the kidds (of the goat variety) and kids (of the human variety) a place to climb. Refrigerators are popular items for holding up porch roofs. Commodes have been used as flower pots in front yards.
Do you like birds?
Just humming birds and small birds like finches. We do not keep a birdfeeder for larger birds because we don't want our buildings' roofs to be white.
Casino
In addition to Bingo halls, The Cherokee Indian Reservation now sports a Harrah's casino.
Christmas Tree Farms
Very common in the mountain regions of the southeast US.
Dillsboro, NC
Is the northern terminus of thr Great Smoky Mountain Railway that is on the east side of the park. They run a steam locomotive and the scenery is great.
Gem & Ruby Mine
Common throughout the Smoky Mountain and Blue Mountain regions are tourist traps where you can pan for gems and minerals. The region is well known for it's minerals, but I don't know about precious gems. Tourists probably find garnet instead of rubies as it is also red. The name Quark's was taken from the opportunist, Quark, a character in the Star Trek Deep Space Nine series.
Idea for the Finchfield & Wrensylvania and Naming It
This is a play on words of the Clinchfield Railroad and the Pennsylvania Railroad - both of which were easy to turn into bird names. The bird name was necessary since all the buildings are birdhouses.
The Clinchfield passes through the picturesque Blue Ridge Mountains. It was a critical railroad for carrying coal out of the nearby Appalachia coal region in Virginia. Both the Clinchfield and the Pennsylvania railroads had well constructed railroads and large locomotives.
I first saw a garden railroad in the mid '80's. There are several thousand of these in the US alone. There is a national convention each year and a half dozen publications. There is a local garden railroad club with about 140 members.
We are probably one of the first in the nation to use birdhouses for our garden railway buildings. The amount of dirt and rock employed definitely makes ours one of the more elaborate garden railroads anywhere.
Garden railroading is more realistic than indoor model railroading. Even runaway cars, which fortunately rarely happens, are more realistic. In indoor model railroading, someone is usually close enough to catch them. Outdoors, if someone isn't right there when it happens, all you can do is stand there and watch them wreck.
Kudzu
A grapevine-like plant that was brought to the US for errosion control. Not having any natural predators, it spreads rapidly killing everything it covers by hogging all the sunlight. It is said that the only way to get rid of Kudzu is to move. Old rusting cars and appliances are frequently covered by it. It is presumed that the cars and appliances were already dead when abandoned.
Logging
Smoky Mountain National Park was formerly owned and logged by the Little River Company. The Little River runs primarily east-west on the north side of the park. The road that parallels this small river was originally the roadbed for the company's tracks. Little River donated the land for the park. The Shay locomotive operated on this garden railroad is a model of the locomotives used by the Little River.
Meig's Falls
The Little River Company was rather resourceful having brought a number of innovations to the logging industry. One of them, not dared duplicated by any other railroad, was the only swing bridge in railroading. The bridge was basically nothing more than track dangling in air supported primarily a few steel cables run underneath it and the rail itself. A few additional cables kept it from truly swinging much.
The bridge scaled the falls on the left side at an angle of roughly 45 degrees. This is far too steep for any locomotive. A "Mary-Sue" steam skidder was winched across the bridge and was then used to pull empty log cars up the bridge. Cars were released at the top and allowed to coast to a stop. They were then coupled to a locomotive and taken to the sawmill. Despite the fact that no log car ever wrecked, employees did not ride the cars across the bridge - a wreck would have almost certainly meant being crushed to death.
Moonshine Tank Car
While there may have never been a moonshine tank car, moonshine was popular in the mountains and is still made by some today.
Outhouses
If you wander too far from the interstate, you will find small, isolated towns that were lost in time 50-100 years ago. This is no joke. Running water is questionable. The ONLY sign of modern civialization are the tv satellite dishes. Outhouses are common in these areas.
"Have Your Picture Taken with a Real Cherokee Indian Chief"
The same souveigner shops and tourist traps still entice you to stop in and have your photo taken with an Indian. Whether that Indian is a bonafide Cherokee Indian Chief is another matter.
Roadside Apple Stands
Apples are grown in the mountains. Roadside stands selling apples cheap, cider, and every conceivable jelly are very common.
"See a Live Bear"
Black bears are common to the Smoky Mountains. Many of the souveigner shops and other tourist traps had caged bears for you to see and entice you to stop in. The bears were not well cared for and the cages too small. This practice is now forebidden.
"See Rock City"
Rock City is a tourist attraction in Chattanooga, Tennessee. It was common for barns in the mountain regions of the southeast US to be red with black roofs and "SEE ROCK CITY" painted in giant lettering on the roof.
More on how the trains are controlled.
One of the locomotives uses Sterno to boil water and actually uses steam to propel the locomotive. It uses the same type of radio control as used on model airplanes.
The vast majority of the locomotives on the F&W use DCC - Digital Command Control; primarily for the sophisticated sound systems available for it. The track has a constant 18V of AC on it to power the trains. The radio throttles send commands to a box called a command station. These digital commands are then superimposed on the track power. Computers inside the locomotives interpret these commands.
For the technically minded, the track power is 18 Vp-p square wave AC at about 8.3kHz. This is then pulse width modulated with the digital control signals by the command station. The command station receives radio signals from the throttles in the 900MHz band.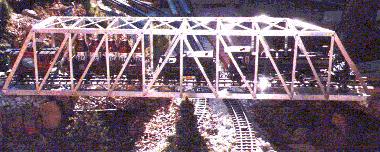 Grab that beer* in the last car and stop on by!
It is tough to have trains running for the Januaury show. Even if not running, we will have it open for you to view. Weather may also inhibit us putting out buildings and people. You won't waste your time coming as our HO railroad is also on display during this show. We are also open for G-Day usually the third weekend of June.
We do not keep the buildings and people out. Also, the track frequently gets covered with leaves, sticks, and stones. So we cannot easily show an operable layout other than shows. You will see a static layout with only the landscaping and bridges.
When visiting please keep the following in mind:
Children should be reminded that the Hatfield and McCoy fewd was for real. Coming across someone's still or fighting cock farm is hazardous to one's health even today. Stray children should watch for stray bullets. Unattended children should watch for unattended bullets. "Where does that trail lead?" "It goes to my daddy's still, but it doesn't come back."
Seriously, the rocks are loose. DO NOT let your children touch anything. They could fall and break toes. Do not let your children use my stone arch viaduct as a foot rest. If you knew what that bridge cost, you might be tempted to kill your own kid and I don't have a funeral car - yet.
We are very proud of the weeds we grow. We have the largest variety and bountiful crop in the Metroplex. Weeds are free for the picking. Bags to take them home will be provided on request. Everyone is encouraged to take one home as a remembrance of your visit to the Finchfield and Wrensylvania. If you plant it, this can be the beginning of your very own garden railway!
A reward will be paid for each bug you kill. Mass murder is strongly encouraged. Alternately, you may take them home alive. This is another way to start your garden railway!
*Proof positive that a garden railroad can be useful!

We are still looking for a still and a mobile home. Have you seen one? Here is a list of some of the buildings on the F&W.
Abandoned Log Cabins (heavily weathered, "rustic," aka falling apart!)
Apple Stand
Bank
Barbershop
Bed & Breakfasts
Birdello
Car Repair
Casino
Coaling Tower
Corner Store
Churches
Christmas themed buildings
City Hall
CPA Office
Fire Departments
Gazebo
Gem & Ruby Mine
Halloween themed buildings
Hanger for airplane
Mining Supply
Mountain Homes
Outhouse
Post Office
Quanset Huts
Real Estate Office
Sawmill
Schools
Small Town Homes
Snack Stand
Tee-pees
Train Stations
Water Tank
Wedding Chapel

Except for weeds, we can kill any plant. Even supposed hardy plants, we can kill them off after a year or two of diligence. Some people plant the little plastic signs with their plants so that they know what works. For us, they serve two other purposes. Obviously, they serve as an indicator of what didn't work. Also, they serve as a sort of tombstone in memory of those plants that gave their lives to our black thumbs.
N ow that we have a few years to see plants grow in size, we find that there are actually only a few plants that meet our requirements. Some of those requirements we didn't know we had until this year! Those requirements are:
1. Plants should spread and reroot as they spread. We have found thymes do a poor
job of rerooting as they spread.
2. Plants should not reproduce itself on other parts of the garden railroad. This makes
it hard to control.
3. Flowers are desirable.
4. Annuals are not highly desirable, but do reasonably well..
5. Dense growing plants are desirable. These help keep out weeds and control soil
erosion on the very steep sides of our garden railroad.
6. Complementing a forest theme is desirable.
7. Avoid really fast spreaders.
8. Avoid tall growers.
9. Does not get woody as plant grows. Woodiness prevents us from trimming the
plant back and having it look nice. You end up with a brown thing with no leaves.
We also found that some of the plants only spread downhill from where they are planted.
Virtually all the plants only grow in the spring and fall in our area. While well watered by our drip irigation system, they still seem to spend the summer just surviving.
Changing Plant Preferences:
Thymes are falling out of favor on our railroad. They spread, but they don't reroot. We need something to hold the ground together and as the plant grows. It needs to reroot so it can acquire more water for the larger plant. We also found thymes seems to die out, especially near the middle after a year or two. So pay special attention to creeping mazus and erodium below.
Creeping Mazus: Spreads, reroots, flowers purple, low growing, doesn't mind the "reduced" (in Texas, reduced is a relative term) sun, and likes the heavy watering needed for the dwarf trees.
Dianthus: We think we are going to like this one. Spreads and reroots. Looks like 1" tall grass with flowers.
Erodium (Stork's or Crane's Bill): Dense, maroon or pink flowers, slow, 2-4" tall. Great around the pond. Too tall to be near trees, figures or buildings. We like this hard-to-get plant, but they frequently die mysteriously. Available at many nursuries, but not every year.
Alyssum: Moderately dense. Annual, but keeps coming back in our area, white or purplish flowers, 4"tall. Great in isolated places or to cover a square foot or more. Height makes it inappropriate near minature trees, people, and plants listed here. Available at home improvement stores.
Dwarf Albert Spruce: Seedlings available about 4" tall. Will eventually be 4' foot tall in about 10 years. Bummer. Still, this is the all time favorite of garden railroaders. Not recommended for our area due to heat, but our drip irrigation helps them survive the summer. Some nurseries can order large ones for you. Buy small ones mail order from nurseries like Miniforests by Sky. Since trees don't spread, you will need a lot of them. Roughly speaking, they cost about $1 per inch of height. Buy a few large ones and buy the rest small. We have 236 trees.
Wooley Thyme: Dense, 1-2" tall, slow, downhill, dull, fuzzy, dark green complements forest very well. A popular snack with insects so use Sevin dust. Available at nursuries selling thyme herbs.
Creeping Thyme: Moderately dense, 2-3", moderate growth. Good along creeks or to cover areas up to a few square feet. This is the largest ground cover that I think should be used on a garden railroad. I prefer not to use it near trees, buildings, or figures. Available at nursuries selling thyme herbs.
Box Hedge: My wife can trim these to look like decidous trees. Available at home improvement stores.
Cedar: Bonsai varieties do well and work with forest theme. These trees are free. About a dozen a year just show up! Unfortunately, the birds frequently plant them right next to the tracks. The ones that are a few years old are clearly going to be too big in a few years. We are pinching them back in the spring trying to retard their growth. When they get too big, we'll turn them into tree stumps.
Hydrocotal: This is like clover. Some people consider it a weed. It looks like scale Kudsu. Very dense and low growing. You can buy it, but our local nursery lets us dig it out of their sidewalk cracks for free. This is quickly becoming our favorite plant.
Clover: We are trying something new in 2005. We are encouraging certain weeds to grow. A few varieties of clover are dense and low growing. Looks fine to us!
Weeds: Dense, do not require watering or fertilizer, immune to bugs, fast spreading, available free of charge, delivered right to your home, self-planting, no tilling, mulch or expensive soil required. Poison Ivy is especially hardy as it is immune to Round-Up and other defoliants. Most varieties "butt-ugly." We have the most abundant and largest selection in the Metroplex! We will be glad to share ours with you!
We have other plants, but these are the only ones I would use if we started over.

On August 21st, 1999 the golden spike was laid!
After four years of every single weekend that it wasn't raining and was at least 52 degrees, the railroad was completed. Having never built one before, and new to the Texas weather and soil, more than a few things were learned along the way. The F&W is the largest in the area and the most three-dimensional. There was no way everything could be foreseen nor what the solution needed to be. In a way, it was good that it took several years to build as lessons were learned before more mistakes were made. Here is how it came to be.
Half Baked
This garden railway uses the half-baked method of design and construction. The railroad was not fully designed when started and has changed course many times during the construction. I am not good at visualizing the fully finished product. So many things were done enough that I could visualize the next step. The decision to make a metal viaduct and so many metal bridges as well as their type was not concieved until a native Texas tree started dropping grapefruit sized "bombs" on the railroad. This approach to design has worked very well as the final result has always been much better than the original idea.
"If it Looks Good at Ten Feet"
If it looks good at ten feet, leave it alone! Many of the birdhouses, being handcrafted, sets the tone for the F&W. If anything looked "too good," it would look out place. We therefore have intentionally avoided fine detail no matter how much the temptation. That also helped speed things to completion!
Details on the otherhand, like people, fences, appliances and such, are being added as these are the things that bring a layout to life.
Indoor Yard in Garage

I can drive all my trains into a yard in my garage. This greatly increases the convenience of using the railroad. It contains about 125' of track that runs along the long wall of the garage. It is encased in plexiglass to minimize dust and has flourescent lighting so I can see what I am doing. All this is located under shelving in my garage. It has five tracks and can hold seven trains. I open the back door, turn on the power, and out of the garage goes a train - until it hits a twig or something. Oh, well, you can't have everything! Once the yard exits the protective shed, the track is surrounded by a second layer of plywood making the rail essentially flush with the floor making it possible to walk on the track.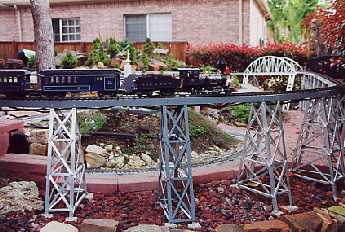 Metal Bridges
The metal bridges have become a signature feature of the F & W. While they lack the fine detail that would be present on a real steel bridge, these are very convincing nonetheless. That's good because I couldn't get my hands inside them to apply finer detail nor paint them. The few that where painting was tried, were restored to natural aluminum.
Steel viaduct is 40' long. There are 15 towers. It took a full day to build one tower. The entire steel viaduct and arch bridge took four months of solid weekends to build. The aluminum is held together with stainless steel hardware.
To make real concrete footings, small plastic pots that you buy plants in are inverted and have their bottoms cut out. Concrete is poured into them and then the flower pot is cut away.
Lava rocks, hiding red cement, covering stones hopefully will do a good job of keeping the weeds to an absolute minimum. Weeding inside the towers is tough and in the winter, when plants are slow growing, things like Round-Up simply don't work. Pre-emergent weed products like Preen are laughed at by weeds even when the ground is completely covered with the stuff.
All of the bridges are custom designed for their location on a computer.
Getting the Rough Sawn Look
The wooden trestle and the covered bridge, were given that home-crafted, rough-sawn look by intentionally ruining a cheapie saw blade .

Four teeth on a circular saw blade were bent. Teeth half way around the blade were bent in the opposite direction in an attempt to maintain blade balance. Kerf is greater than 1/4".
Surveying the Right-of-Way
Determining heights accurately was a challenge. Running a line from a central reference location is thwarted if the desired end point is below the current surface or there is something taller in the way.
A "water level" is a clear hose filled with water. It is attached to two stakes at the points you wish to measure. The water will be at the same height at both ends of the hose. Measuring down from the water to the ground, you can then determine how much higher or lower the second point is from the first point. Mark the stake with a piece of tape and leave the stake in the ground.
The reference point, which was the top of the patio, is now moved out into the yard. The hose can go around trees, shrubs, mounds of dirt, whatever. As long as there are no air bubbles in the hose, the system works. Getting the air out is difficult. So once all the critical points were determined, I switched to using a higher tech tool - a digital level.
The digital level displays grade as a percentage! Can be moved along right-of-way before grading and averaged. Then go back and grade right-of-way.
Concrete
I wish I had used much more of the stuff from the beginning. Our Texas clay soil shifts and not even my rocks stay put causing periodic avalanches. So I fix these problems by putting cement behind the stones and cementing them together.
The creek and waterfall are completely cemented in to prevent erosion and to prevent water leaks. This worked much better than using rubber pond lining.
Most importantly, rebar reinenforced cconcrete it is the only way to go in making your sub-roadbed. The magazine articles make this approach look difficult. It is actually the cheapest, easiest, and most robust way to go! You can use forms if you want to, or just pour the concrete into a trench. Compared to stone and pressure treated lumber, concrete is still cheaper. If you want forms, use Homasote precut for this purpose from your local home improvement store. Just smooth as you go. Put a piece of wood on top of the concrete and check with your digital level to set the grade. Next weekend, lay the track and ballast. I wish I had done it this way from the start.
Portland Cement and Chicken Grit
Ballasting has also been a problem. The expensive chicken grit keeps settling and leaves keep getting betweeen and under the ties. A leaf vac can't get the leaves that have lodged themselves under the ties - especially the wet ones! Once again, cement is the answer! Mix about 10% gray or black portland cement with chicken grit. Pour chicken grit over your track. Use a "Jordan Spreader" (wisk broom) to clear cement and grit off of the inside edges of rail and smooth out. Now the trick that makes this work: Using a spray bottle like you get at Home Depot or an empty household cleaning products bottle, soak. You can also use a pump sprayer or a garden hose nozzle with a mist setting. This will wash the portland cement off the top of the chicken grit. On real sidewalks, they call this exposed aggregate . With no settling, the leaves do not get between the ties. If you have a thick ballasted area or cement sub roadbed, you can easily walk on the track.
Concrete Piers in Pond
Fooled you! My simulated concrete piers have fooled more than one expert modeler. They are 1/4" plexiglass covered in "speckle paint." Real concrete piers would be too heavy and ruin the pond bottom. A clear coat over the speckle paint protects the finish from the outdoors. The plexiglass panels are held together with aluminum (scraps from the bridges) and stainless steel hardware. Large holes - beneath the water level - made them easier to assemble and give the fish a place to hide. A small hole on the top, and now under the through-girder bridges, allows air to escape so the piers could sink.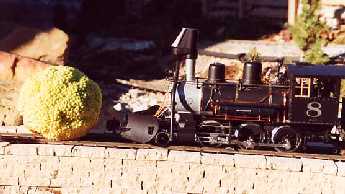 Stone Arch Bridge
The stone arch bridge and viaduct are steel reinforced, concrete bridge covered with scale cut real stones by Stoneworks www.rrstoneworks.com The stones were glued on with Liquid Nail Floor Adhesive - which has the same color as the stone. After the arch stones were glued on, the coursing stones were glued on from the top down following the inclined top of the bridge. The adhesive held most stones in place instantly.
This viaduct was originally to be a simple wooden bridge. But when these ugly green things, generally called "horse apples" started falling in the fall, I decided to instead to build a steel reinforced concrete bridge clad in stone to withstand being pelted by these inedible "fruits."
Needless to say, the name of this viaduct is "Horse Apple Viaduct"

Track
Code 250 "scale" rail and ties with wide radii seemed like a great idea. Not it Texas! The temperature and shifting soil shear the scale spikes right off. It has turned into a maintenance nightmare. Now that LGB and AristoCraft have larger radii, use their track.
To attach wires, use liquid flux and solid, silver-bearing solder. Liquid flux cleans thoroughly and leaves no residue. More reliable connections faster! Solder with a little silver is used for a stronger, low corrosion connection. The liquid flux from H&N Electronics works so well, I have seen people, besides myself, get excited about the stuff! H&N Electronics http://www.ccis.com/home/hn
Decals
The F&W has it's own logo. All decals on the F&W have been made on an Alps printer. This printer uses a variety of ribbons that can do white or gold metallic! Decals on structures that remain out all the time, need to be coated with Rustolieum clear coat or something similar to keep them from washing away. The coated ones have been holding up well for several years now.
Waterfall and River System
The waterfall and river are an engineering feat in themselves. The water for the falls is recirculated with a reservoir at the end of the river. But that isn't all. The downspouts from my home empty into the river at hidden locations. During a rain and while the irrigation is running, excess water collects in the reservoir. The same pump that operates the waterfall, pumps the excess water out of my yard. All that is required is the flipping of several valves. Should it rain too hard for the pump to keep up, the reservoir has a spillway.
The pump can suck the reservoir dry in a few seconds. The water takes two minutes to travel the length of the river. To keep the system running, rocks are piled in the river at strategic locations. These mini-dams help store water increasing the effective size of the reservoir. They also add a babbling brook sound. To keep junk from collecting behind the rocks, they are removed when I am not having a show.
The entire system is stone-lined and cemented together. This prevents erosion from a heavy rain and the fast moving water of a show. It also reduces the loss of water into the ground during a show.
I still loose water from splashing during a show. A float switch and a electric water valve add water to the reservoir as needed.
My river is separate from the pond and is dry except during shows and rains. It still collects massive leaves. My fish cannot get to the river. But at least with a somewhat dry river, the leaves are easier to clean up. Note that they will still get wet and mud dauber wasps still love them.

My feeder goldfish were 10/$1. The store told me the first couple of batches would most likely die until the "biology" sets up. Maybe if I had heard that I should not feed them initially, I would have had better luck with my first $2! At least what the pet fish store and the outdoor pond store told me was consistent. So here goes.
I do use a UV filter and a mesh filter to filter crud out of the water - which includes leaves and mostly algae. I use snails to eat the algae off the sides of the pond.
The only difference between the advice these stores have given me and reality is to use much larger of everything. For my 285 gallon pond, I use an 8W UV lamp (kills algae), but I'm going to switch to a 16W. The 8W barely seems enough.
Also, I use a 750 gallon per hour pump. Again, it's barely enough for the UV filter. Now that I've gone to these larger sizes than was initially recommended, I now have clear pond water instead of the mirk I had before.
The last change probably made the most difference - the filter. Between what I was initially sold, it is at least 10 times greater. I have a spiral mesh submersable filter that is about three gallons in size. It was this thing that finally got us clear water. Smaller filters clog faster, slow down water recirculation, and have to be cleaned more often. Perhaps the one gallon one they sold me might have worked, but I would have had to been religous in cleaning it at least once a week during the summer. With the three gallon, I can go two weeks during the summer, but notice a slow down. But at least I can go on vacation. In the winter, I'm doing it every few weeks. I try to wait for a warm day!
The submersable filters I have been told are much better. They do prevent the clogging of the pump. But I have to stick my hands in the cold water to pull it out and clean it.
I have goldfish, mesquito (larve-eating) fish, and snails. The mesquito fish and snails are supposed to die during the winter, but plenty survive and they multiply like mad, so I have no problem keeping them year around. After the initial gold fish deaths, none have ever died. Some got to be 3-4" in the first season. About 6" in the second. A few are now better than 8". Yet some are still about 3-4". Go figure.
I'm told that as long as the pond does not ice over solid for more than a few days, they will survive. Since my pump keeps the surface churned, it has never had so much as a film of ice - and we had a several good cold spells icing trees and streets.
A little tid-bit of physics: No matter how cold it gets outside, it is not possible for water to drop below 32 degrees until every single drop of that water turns to solid ice. It can be 5 degrees out for two weeks, but as long as the water is water, it will not be below 32.
Feeding: I have food for when the water temp is 65 and higher. I have special fall/spring food for 42 - 65. But below 48, they aren't very interested in eating anyway. Below 42, I stop feeding them - even if for a few weeks. Again, that's advice I've gotten and it works. If they get hungry, they will eat the algae I am told. Since their metabolism slows as the water temp drops, feeding them the wrong food and/or too much, will clog their digestive system and kill them.
Tap water contains chlorine and other things that will kill the fish. You can buy chlorine removing chemicals at Home Depot and Lowes. I put this in 5 gallon buckets and then dump the buckets in the pond. During the summer, I may dump in 20-40 gallons of water to make up for evaporation.

Free counters provided by Andale.